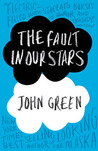 The Fault in Our Stars by John Green
My rating: 4 of 5 stars | Read: February 1-2, 2014
"My thoughts are stars I cannot fathom into constellations."
Is that enough for you, Goodreads?
This is one of the few books that follows exactly what it says on the tin. Hazel, our protagonist, is a sixteen year old living with cancer; on experimental medication that has stopped the growth of her cancer cells, but have not eradicated them. She lives what remains of her life at a safe distance from peers–until one day, Augustus Waters shows up.
The pacing is excellent, with no dull moments or fillers. I'm sorry, I'm really having a hard time putting things into words. I'll just say that: This was beautiful; at it's core, it's a story about two people who have accepted death and are trying to live their lives to the fullest while they still can; about the people around them and our understanding of love and sickness anddeath; and mostly, it's about two young people choosing to love and getting everything that comes with it, all the pain, despite death's utmost closeness.